Queen's Own
The Official Mercedes Lackey Fan Club
P.O. Box 749
Laguna Beach, CA 92652 USA
Series 3, Vol. 2, No. 2
February 1, 2001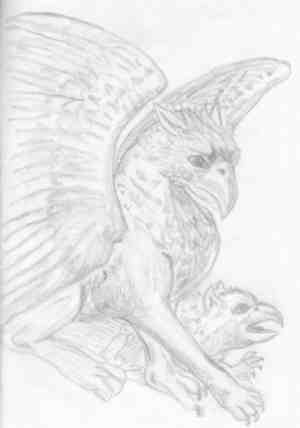 Heyla, Misty fans!
Mercedes Lackey has been busy, busy, busy! By now many of you have figured out that Misty's Beyond World's End, the next installment in the Bedlam's Bard series is available. We'll have a review of it in the next issue of The Compass Rose, QO's nonfiction journal, which will hopefully be coded and online in the near future (Young babies don't allow mamas much time for things like coding <g>.) The paperback edition of The Fire Rose is due out any day. The Serpent's Shadow, which takes place in the same setting as The Fire Rose, is scheduled for release in March, and look for Elvenborn, the next in the series that Misty is writing with Andre Norton, in April. Misty is also working on an eight-book juvenile series, inspired by the Harry Potter books, which will follow the adventures of a Herald Trainee through the Collegium.
We are delighted to announce the formation of the Herald's Waystation, the newest chapter of Queen's Own! Heralds Auralynn and Enyo are heading up this venture. Check out the details in the "Local Chapters" and "Zines and Newsletters" sections below.
We are very excited about all of the things going on in Queen's Own. Join the QO chatlist or visit the private QO Delphi forum for more details on Renaissance Faire trips, Midsummer get-togethers and a host of other fun things that are in the works. We already mentioned that the next issue of The Compass Rose will be posted soon, and Issue 2 of Children of Velgarth, the QO 'zine, will be available shortly as well.
This newsletter features our chat with artist Michelle Cornett. Thanks to all of the talented folk who are participating in this series! Subscribe to the various QO 'zines (listed below) to see their work as well as art by other QO fans.
Zhai'helleva,
Herald-Mage Master Danya Winterborn and Healer Adept Moonstar

When did you join Queen's Own?

1992, I think.

What got you hooked on Misty's books?

The characters, mainly. They're vivid people, and it can hook you in no time :-).

What else do you read?

I enjoy a good vampire novel, but it's mostly fantasy that I read, like Piers Anthony, Terry Brooks, and Graham Masterson.

What types of music do you listen to?

I'm pretty eclectic when it comes to music. I listen to anything from Slipknot to Loreena McKennit, Enya to Green Day.

What was the first con you went to?

Never been to one YET, but I'm going to try to attend one in late August, called Con'Fur'ence.

Do you sell your work at cons?

I've been asked to send in some of my pieces, but it never seems like I can find the time or money to do it of yet. But I hope to!

Who or what inspires your art?

Robin Woods is wonderful. Music can also stir the creativity juices.

Do you have any formal training or mentors?

I'm completely self-taught. I remember in high school my art teacher getting onto me for helping other classmates 'cuz she can always tell its me by my own unique way of drawing.

Describe the process you go through when you create a piece of art.

Oye! I never know what I'm drawing in the beginning. I usually just start with basic body outline and go from there. People think I'm strange when they ask what I'm drawing and I can only say "I'll know when I'm finished." Hehe . . .

What other projects besides Queen's Own occupy your time?

I use to be an avid contributor to Karen Bertke's The Herald's Companion and Patricia Roe's The Unicorn Vale. . . as well as the past fanzine called Betes Noires dedicated to vampires, werewolves and other creatures of fantasy and horror . . . You could also find some of my work in past issues of Companions' Grove . . . I always look for others that I enjoy sending my work to.

Ren Faires: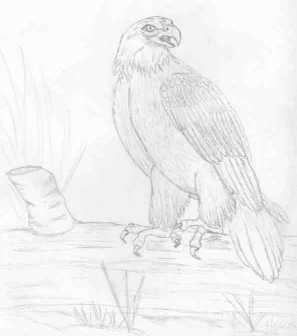 Here are the faires we know about that are happening in February. Faires are indexed alphabetically by state. Have any information about any other Ren Faires in your area? Send it to us at Legend@malcor.com
Florida
HOGGETOWNE MEDIEVAL FAIRE. FAX: 352-334-2146. E-mail: piperlr@ci.gainesville.fl.us. Website: http://www.state.fl.us/gvl/arts_culture/Medieval.HTML. Address: Dept. of Cultural Affairs, P.O. Box 490, Station 30, Gainesville, FL 32602-0490. Site Address: Thomas Center A, 302 NE 6th Avenue, Gainesville, FL 32601-5476. Dates: 2/11/00 - 2/13/00. Open/Close: 10:00 AM - 6:00 PM.
Texas
SCARBOROUGH FAIRE. Website: http://www.scarboroughrenfest.com. Address: Waxahachie, Texas. Dates: 4/14/01 - 6/3/01. Open/Close: 10 AM - 7 PM.
For additional Ren Faire information, visit the Renaissance Faire Homepage at http://www.renfaire.com/ and the Renaissance Magazine site at http://www.renaissancemagazine.com.
Conventions:
These are the upcoming cons we know about. Have any information about conventions in your area? Send it to us at Legend@malcor.com.
Alaska
LEFT COAST CRIME 11. E-mail: lccinfo@lcc2001.com. Website: http://www.lcc2001.com. Address: Anchorage Hilton, Anchorage, Alaska. Dates: 2/15/01-2/18/01.
California
APE 2001. E-mail: CCIWEB@NUCGEN.COM. Website: http://www.comic-con.org. Address: Herbst Pavilion at Fort Mason Center, San Francisco, California. Dates: 2/17/01 -2/18/01.
DUNDRACON XXV. E-mail: netrep@dundracon.com. Website: http://www.dundracon.com. Address: Marriott Hotel in San Ramon, Concord, California. Dates: 2/16/01 - 2/19/01.
FANIME CON 2001. E-mail: registration@fanime.com. Website: http://www.fanime.com. Address: Fanime Pre-Registration, PO Box 8068, San Jose, CA, 95155-8068. Site Address: Westin Hotel & Convention Center, 5101 Great America Parkway, Santa Clara, California, 95054. Dates: 3/30/01 - 4/1/01.
GALLIFREY 2001. E-mail: Gallyone@aol.com. Website: http://www.gallifreyone.com. Address: Airtel Plaza Hotel, Van Nuys, California. Dates: 2/23/01 - 2/25/01.
ORCCON. E-mail: cbrien@libertybay.com. Website: http://strategicon.webjump.com. Address: LAX Wyndham Hotel, Los Angeles, California. Dates: 2/16/01 - 2/19/01.
POTLATCH 10. E-mail: potlatch10@yahoo.com. Website: http://www.ccnet.com/~lennyb/potlatch. Address: Ramada Plaza Hotel International, San Francisco, California. Dates: 2/23/01 - 2/25/01.
Florida
FLORIDA CON-QUEST. E-mail: FloridaConQuest@aol.com. Website: http://www.floridaconquest.com. Address: Ramada Airport Hotel, Tampa, Florida. Dates: 2/9/01 - 2/11/01.
FLORIDA EXTRAVAGANZA. E-mail: bzalkin@aol.com. Website: http://www.fxshow.com. Address: Orange County Convention Center, Orlando, Florida. Dates: 2/3/01 - 2/4/01.
GAME INVASION 2001. E-mail: info@gameinvasion.net. Website: http://www.gameinvasion.net. Address: University of North Florida, Bldg. 43, Jacksonville, Florida. Dates: 2/24/01 - 2/25/01.
LFN FLORIDA. E-mail: oversight_1@hotmail.com. Website: http://www.oversight.org. Address: Hard Rock Café, Orlando, Florida. Dates: 2/17/01.
Georgia
FESTIVAL OF DREAMS. E-mail: festival@larp.com. Website: http://www.larp.com/festival. Address: Atlanta, Georgia. Dates: 2/2/01 - 2/4/01.
Illinois
BCON. E-mail: emilypk@bumail.bradley.edu. Website: http://geocities.com/medievalcollege. Address: Bradley University, Peoria, Illinois. Dates: 2/2001.
CAPRICON. E-mail: info@capricon.org. Website: http://www.capricon.org. Address: Arlington Park Sheraton, Chicago, Illinois. Dates: 2/8/01 - 2/11/01.
STAR TREK. E-mail: sfedora1@aol.com. Website: http://www.sfedora.com. Address: The Clairion Hotel, Champaign, Illinois. Dates: 2/10/01 - 2/11/01.
WINTER WAR 28. E-mail: winterwar@prairienet.org. Website: http://www.prairienet.org/winterwar. Address: The Clairion Hotel, Champaign, Illinois. Dates: 2/2/01 - 2/4/01.
Iowa
GAMICON 2001. E-mail: Slegra@aol.com. Website: http://www.mindbridge.org/gamicon. Address: Ramada Westfield Hotel, Iowa City, Iowa. Dates: 2/23/01 - 2/25/01.
Kansas
SPRING MANEUVERS. E-mail: Limberrider@webtv.net. Website: http://community-1.webtv.net/LIMBERRIDER/SPRINGMANEUVERS. Address: Frontier Conference Center, Fort Leavenworth, Kansas. Dates: 2/23/01 - 2/24/01.
Kentucky
CONCAVE 22. E-mail: grrobe@preferred.com. Address: Park City, Kentucky. Dates: 2/23/01 - 2/25/01.
Massachusetts
BOSKONE 38. E-mail: boskone@nesfa.org. Website: http://www.nesfa.org/boskone. Address: Sheraton Framingham Hotel, Framingham, Massachusetts. Dates: 2/16/01 - 2/18/01.
Minnesota
CON OF THE NORTH 2001. E-mail: info@conofthenorth.org. Website: http://www.conofthenorth.org. Address: Ramada Inn, St. Paul, Minnesota. Dates: 2/16/01 - 2/18/01.
Missouri
ALPHAOMEGACON. E-mail: darkstr@mindspring.com. Website: Junior@visioncon.net. Website: http://www.visioncon.net. Address: Clarion Hotel, Springfield, Missouri. Dates: 2/16/01 - 2/18/01.
New York
ASTRONOMICON 2001. E-mail: Ralston@aol.com. Website: http://www.ggw.org/freenet/r/RochesterFantasyFans. Address: Radisson Inn Airport, Rochester, New York. Dates: 2/9/01 - 2/11/01
HERCULES & XENA. E-mail: tickets@creationent.com. Website: http://www.creationent.com. Address: New Yorker Hotel, New York, New York. Dates: 2/24/01 - 2/25/01.
Ohio
BASHCON 2001. E-mail: utbash@hotmail.com. Website: millennicon@mvfl.org. Website: http://www.millennicon.org. Address: 143 Schloss Lane, Dayton, OH, 45418. Site Address: Kings Island Resort & Conference Center, Kings Island, Ohio. Dates: 3/23/01-3/25/01.
PALADIN GAME HUNTERS GAME AUCTION. E-mail: PaladinGH@gateway.net. Address: 10421 Fidelity Cleveland, Ohio, 44111. Dates: 2/3/01.
Virginia
FEBRUARY 10 GAMEDAY. E-mail: dluff@erols.com. Website: http://clik.to/novag. Address: Little Wars Hobby Store, Sterling, Virginia. Dates: 2/10/01.
KATSUCON. E-mail: katsucon@katsucon.com. Website: http://www.katsucon.com. Address: Hyatt Regency Crystal City, Arlington, Virginia. Dates: 2/16/01 - 2/18/01.
PREZCON 2001. E-mail: kingmaker96@mindspring.com. Website: http://www.prezcon.com. Address: Doubletree Hotel of Charlottesville, Charlottesville, Virginia. Dates: 2/21/01 - 2/25/01.
SHEVACON. E-mail: shevacon@msn.com. Website: http://www.shevacon.org. Address: Wyndham Roanoke Airport Hotel, Roanoke, Virginia. Dates: 2/2/01 - 2/4/01.
Washington
RADCON 3A. E-mail: jus1dave@gte.net. Website: http://www.owt.com/radcon. Address: Doubletree Inn, Pasco (Tri-Cities), Washington. Dates: 2/16/01 - 2/18/01.
Wisconsin
PLATTECON XI. E-mail: gaming@uwplatt.edu. Website: http://www.uwplatt.edu/~gaming/pcon.html. Address: Ullsvik Center, UW-Platteville, Wisconsin. Dates: 2/23/01 - 2/25/01.
Australia
BEST OF BOTH WORLDS 11. E-mail: alc@nlc.net.au. Website: http://www.bobw.com.au. Address: Southern Cross Hotel, Sydney, Australia. Dates: 2/17/01 - 2/18/01.
WHOVENTION 5. E-mail: whovention@eagles.com.au. Website: http://www.eagles.com.au/~whovention. Address: Rydges, North Sydney, Australia. Dates: 2/16/01 - 2/18/01.
Canada
AD ASTRA. E-mail: redbeard@yorku.ca. Website: http://terra.phys.yorku.ca/~white/adastra. Address: Primrose Hotel, Toronto, Ontario, Canada. Dates: 2/23/01 - 2/25/01.
CONSPIRACY 2001. E-mail: sawbones@uniserve.com. Website: http://www.longshotsystems.com/CONspiracy. Address: Mission City Motor Lodge, Mission, British Columbia, Canada. Dates: 2/9/01 - 2/11/01.
Germany
HIGHLANDER GERMANY 2001. Website: http://members.tripod.de/DHLFC/HLcon.html. Address: Munchen Airport Marriott Hotel, Freising, Germany. Dates: 2/3/01 - 2/4/01.
New Zealand
ARMAGEDDON 2001 EXPO. E-mail: whoami@ihug.co.nz. Website: http://www.pulpexpo.com. Address: NZI Convention Hall, Aotea Centre, Auckland, New Zealand. Dates: 2/10/01 - 2/11/01.
The Netherlands
A2001. E-mail: Killjoy_b@mailcity.com. Website: http://users.bart.nl/~totoro. Address: Golden Tulip Conference Hotel, Velhoven, Netherlands. Dates: 2/23/01 - 2/25/01.
United Kingdom
CONTHIRTEENA. E-mail: conthirteena@z9m9z.demon.co.uk. Website: http://www.z9m9z.demon.co.uk/con.html. Address: Albany Hotel, Eastbourne, UK. Dates: 2/2/01 - 2/4/01.
INVASION 2001. E-mail: tenth.planet@virgin.net. Website: http://www.tenthplanet.co.uk. Address: Barking and Dagenham Library, Barking, Essex, UK. Dates: 2/11/01.
REDEMPTION 2001. E-mail: redemptioninfo@smof.com. Website: http://www.smof.com/redemption. Address: Ashford International Hotel, Ashford Kent, UK. Dates: 2/23/01 - 2/25/01.
STARFLEET BALL 7. E-mail: scoopx2@aol.com. Website: http://www.users.globalnet.co.uk/~djl/sfb/index.htm. Address: Carrington House Hotel, Bournemouth, UK. Dates: 2/9/01 - 2/11/01.
For additional Convention information, visit Convention Outpost by Jenga at http://go.to/conventions.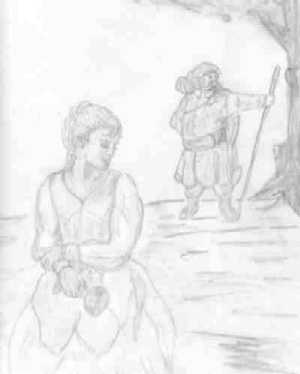 Member News:
For definitions of our fannish jargon, read the 12-page booklet "Pros & Cons: An Introduction to Fandom" written by Elizabeth Barrette. Send $1.00 and a $0.34 stamp (or $1.00 and 2 IRCs) to Queen's Own, P.O. Box 749, Laguna Beach, CA, 92652. Make checks payable to "Linda Malcor" in US funds only.
Local chapters: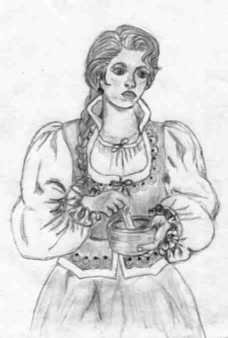 Zines and Newsletters:

Other Fandoms:
Lois Bujold: Lois Bujold can be reached at lois@dendarii.com. "The Bujold Nexus" is at http://www.dendarii.com. You can receive information about their newsletter, the "Dendarii Dispatch" by contacting Lyn Belzer, Editor, 25-16 18th St., #2 Long Island City, NY 11102.

Marion Zimmer Bradley: Marion Zimmer Bradley's FANTASY Magazine. is being discontinued. Please contact us if you have any additional information about the future of her fandom.

CrossGen Comics: Exciting New Fantasy Comic Books. Follow Prince Ethan's adventures the third Wednesday of each month as he gains the powerful sigil and accidentally puts his world on the brink of war. Meridian, on sale the fourth Wednesday of each month, is the fantastic saga of a teenage girl and her plight to save her floating island home. Go to http://www.crossgen.com, or call 1-888-COMICBOOK for details on a retail location near you.

Tanya Huff: Nine Above! is a list for fans of author Tanya Huff. This list provides announcements about Tanya's latest work, publication dates, and personal appearances. NA! also provides a forum for Tanya's fans to communicate with each other, and will have discussion as well as announcements. Lurking is fine, but participation is encouraged. When you join, we'd love for you to send a "hello" to the group at large, telling us who you are! To start sending messages to members of this group, simply send email to nineabove@egroups.com.

L.A. Malcor: Dragonlords of Dumnonia: L.A. Malcor, http://www.dragonlordsnet.com (Note the new URL!), Legend@malcor.com.

Anne McCaffrey/Pern: The Third Pass Weyrs. Contact Weyrwoman Second Naerah at Nyco@aol.com or visit the website at http://www.3rdpass.com/ for more information.

Adrian Paul of Highlander: Peace, APFC P.O. Box 4593, North Hollywood, CA 91617 or Peace, APFC P.O. Box 519, Broley, Kent, BR29WX, England.

Michae Praed: Michael Praed Network Newsletter, c/o Kate Raymond, P.O. Box 516, Midlotioan, IL 60445.

Melanie Rawn: Pandemonium - The official Melanie Rawn club invites you to join their ranks. SASE for more information: Irena Pereira, P.O. Box 18A146 , Los Angeles, CA 90018.

N3F is one of the oldest general interest SF/F clubs, started in 1941. Members meet by snail mail and email to discuss SF, Fantasy, and Horror genres. (Some gather at cons, too.) We have plenty to offer the hungry SF/F/H fan! Members receive Tightbeam, the club's quarterly zine, and The National Fantasy Fan, our bi-monthly zine. For inquiries, please e-mail vze28fbf@verizon.net or snail mail me at Jennifer Mackay-Douglas, 970 Main Street, Clifton Park, NY 12065. Check out our website at http://geocities.com/area51/atlantis/6270.

Star Trek: The USS Starfire is a writing group that writes original fiction set in the Star Trek universe. To find our more about our group, please visit our website at http://www.epix.net/~ckocher/starfire.html or e-mail us at trek01@epix.net.

Doctor Who and other Media: The Prydonians of Prynceton, P.O. Box 3194, Princeton, NJ 08543-3194.
Collegium News:
We have individual handouts for aspiring Heralds, Healers, Bards, Blues, Mercenaries, Tayledras, Shin'a'in, and White Winds Sorcerers/Sorceresses and instructions on how to work for Herald-Mage status if you are already a Herald or for a Kal'enedral if you are already a Shin'a'in. You can find these handouts online at http://www.dragonlordsnet.com/qohandouts.htm.
You need a release form (online at http://www.dragonlordsnet.com/qomlrel2.htm) if you write a story set in Misty's worlds or using any of her characters. You do not need a release for a character sketch, poem or filk. All Misty wants to do is protect her characters and her worlds. Send the release form (you do NOT need to include the story) to Misty c/o High Flight Arts and Letters, P.O. Box 2970, Claremore, OK 74017. Do NOT include the original of the release form with your persona material; send it to Misty. Send a copy to us.
All personae materials should be sent to the QO address or submitted by e-mail to Legend@malcor.com and healermoon@gmail.com.
Welcome to Tayledras Scout Brightshadow k'Vala (Bondbird Ahnshee, a Saker Falcon), Gifted with Mindspeech with his Bondbird and Non-Human Races. Jaime Paz wrote a story and submitted it to three of our 'zines, created a new Pelagris race (firehounds), and composed a piece of music.

Cassandra Vuksa brings us NPC Bard Tiernan Ava, Gifted with Talent and Creativity. Cassandra wrote about her Bard and his family and friends, composed lyrics to a song, and sent a story and two poems to one of our 'zines.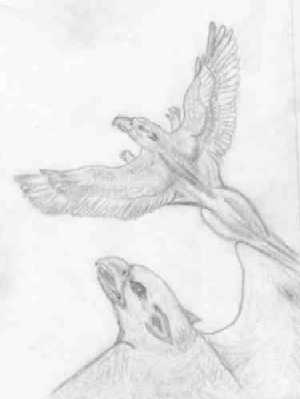 From Herald-Mage Master Danya Winterborn:
The New Year is off to a rousing start! You met our newest member in the Collegium News section. Dozens of other folk are busily working on personae. (Some longtime members have even been submitting NPCs!) You've been introduced to our newest chapter in this issue of our newsletter, and a few other chapters are forming as well. Discussions about how people can have Whites made are underway on the QO chatlist and in the private Delphi forum. Various groups are planning to meet at Renaissance Faires around the world, and it looks as if several celebrations of Midsummer's Day will be held at a variety of locations as well.
Moonstar will be moving closer to me in June, and we expect activities in Southern California to kick into overdrive soon after <G>. We're hoping for a QO trip to the Southern California Renaissance Pleasure Faire (possibly in Whites <g>!), a Midsummer Festival (You up for helping with that, Golden Grove?), and an occasional coffee house chat at a Starbuck's in a Barnes & Noble. We're still plotting to pull off a QO section at a con in 2002 as well.
I've already met several of you face-to-face, and I'd love to meet as many of the rest of you as possible eventually <g>. If you are coming to Southern California to visit Disneyland or check out a college or for any other reason, let us know, and we'll try to set up a QO event at a convenient spot. (Join your local chapter and bug your leaders if you want to see an event in your area.)
Keep us posted about your activities, and continue to send art and stories to our 'zines! Children of Velgarth will release its next issue on February 7th, and I'll have the next installment of The Compass Rose online as soon as I find the time to code it . Keep up the good work, and, above all, have fun!

Zhai'helleva,

Danya

Fan Messages:
The newsletter is routinely posted to the Net. If you are concerned about your address falling into unfriendly hands, don't place a fan message! You may answer fan messages without ever placing one yourself. The editors reserve the right to edit--and shorten!--all messages. (Remember to tell your Post Office about your alternative name if you wish to receive mail addressed to your persona at an addressed where you receive mail under your real name.)

The only "fee" for a fan message is to write to two other people. If your mailbox is empty, don't complain--write letters!
From Jennifer Mackay-Douglas (vze28fbf@verizon.net) to all her old pen pals (and some new ones, I hope): I got married in May 99 and I moved around so much I lost track of my old pen pals. My interests include reading soft SF, short stories (primarily Asimov's because of budget), and fantasy. Nonfiction topics I usually read include: vegetarian cooking, pet care, natural health, history (my hubby and I do Civil War reenacting), and science research on genetic engineering (for my in-progress SF novel). I love going to SF/F cons, enjoy roleplay gaming, watching movies and TV. (I especially love Farscape on the Sci-Fi Channel.) I love all forms of Star Trek, Star Wars, Battlestar Galactica, and a ton of other shows and movies. I enjoy reading Misty, Tad Williams, Kate Elliott, Llewellyn, Tolkien, Ray Bradbury, Ursula K. LeGuin, Louise Cooper, Tara K. Harper, and many more! Write me snail mail or email and I'll write you back. :-) Send snail letters via the US Post Awful to: Jennifer Mackay-Douglas, 970 Main Street, Clifton Park, NY 12065.
From Crystal Sarakas Kocher (crys@stny.rr.com) 26-year-old radio/television producer looking for friends who enjoy long, silly conversations, dreaming of Valdemar and other such things. I would love to hear from old friends that I have lost touch with over the years and from new friends, too!

From White Winds Soceress Shadow Weaver. I am looking for gothic and sci/fi fantasy events in Ohio/KY/Indiana/West Virginia to merchant at. If you have any info please e-mail cimeshadow@aol.com or snail mail Lisa Brawner at P.O. Box 8335, Lexington, KY 40533-8335.

From Herald-Mage Hedge Wizard Jensen Redstart/Kat Knafelc dragonfodder@gmail.com. 22-year-old college grad going back for her Master's in Ecology in the fall. Loves reading, writing, fandom, Scooby-Doo and comic books.
From Healer Adept Moonstar. Needed February '88 through March '91, Queen's Own newletters. I am creating an archive for the club, and as you can see we are listing all the approved personas on the site. Anyone with these newsletters please send COPIES to the Queen's Own address, P.O. Box 749, Laguna Beach, CA 92652. Thank you very much.

Personals:
To All, From Cassandra Vuksa: Heyla! I am looking for people to co-write stories with me for fun and profit! (Okay, okay, not profit.) I have three or four personas - depending if the Bard's been acknowledged yet or not - and I think it would be fun to have some stories written with other personas in them. All I ask other than that is that a) you're tolerant of my perfectionism *grins*, and b) that I can publish it in Austral'a'in afterwards. Just think of all the points toward your persona (if it's not done yet)! If you like the sound of this but aren't much of a writer yourself, I am happy to write it and treat your persona with the love and respect it deserves. You would, of course, have creative control over what it got up to regardless of if I wrote it by myself or not. Anyway, my Valdemar personas are Herald Jaala Neroli, Healer Cinnamon Ava, and Bard Tiernan Ava - yes, they're related. (My Tayledras one is Healer-Adept Winterfire k'Tayle, but I am a bit more reluctant to share her than the other three, because she was my first.) You can contact me at garou@netspeed.com.au. Wind to thy Wings, Cassandra Vuksa.

To All, From Jan: Wanted: anyone interested in helping form a Chapter of Queen's Own in the Texas/OK or surrounding states. It would be an online chapter with an e-mail nonfiction newsletter and e-submissions for a hardcopy zine. But we could all meet at a close Rennie Faire if everyone wanted to. I do not have a name for the chapter yet and will accept suggestions on what it should be names. If only one is interested, please contact me, Jan, at heraldauralynn@hotmail.com.

Queen's Own is the official Mercedes Lackey Appreciation Society. Our purpose is to share our enjoyment of Misty's worlds. We are a fan-run not-for-profit organization, not a business. Our address of publication: P.O. Box 749, Laguna Beach, CA 92652 USA. This newsletter is published solely to inform and entertain the club's membership; no infringement of anyone's copyrights is intended.

Newsletters are published on (or near) the first of each month.

Co-Editor/Co-President Herald-Mage Master Danya Winterborn (L.A. Malcor; AOL-IM SN Shashtah; Legend@malcor.com)

Co-Editor/Co-President Healer Adept Moonstar (Kendra Renaud; AOL-IM SN healermoon; healermoon@gmail.com)

The featured artist for this online version of the newsletter is yet again Jan Tallevast (Thanks for sending us so much art!). All drawings in this newsletter are © to the credited artist. All rights reserved. If you would like your art to be featured in the online version of the QO newsletter, send .gifs or .jpgs to Legend@malcor.com or hardcopy to Queen's Own, P.O. Box 749, Laguna Beach, CA 92652.

Mercedes Lackey does not receive mail at the Queen's Own address. Fanmail to Mercedes Lackey and releases for fan fiction should be sent to:

Mercedes Lackey
c/o High Flight Arts and Letters
P.O. Box 2970
Claremore, OK 74017

Zhai'helleva,

Herald-Mage Master Danya Winterborn and

Healer Adept Moonstar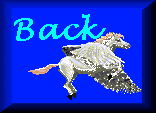 Return to the Queen's Own Newsletter Page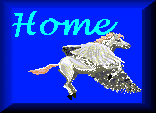 Return to the Queen's Own Home Page