Queen's Own
The Official Mercedes Lackey Fan Club
P.O. Box 749
Laguna Beach, CA 92652 USA
Series 3, Vol. 5, No. 8
August 1, 2004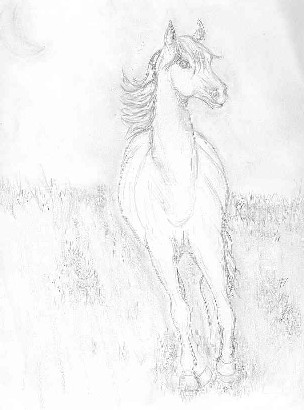 Heyla, Misty fans!
Happy Summer! Hope you are all having a well-deserved break from your usual activities.
Misty now officially writes faster than either of us can read <g>. If you would like to write a book review of any of her books, we'd like to publish it in the QO newsletter! Please send your comments to Danya at Legend@malcor.com.
If you haven't already checked it out, we want to let you know about the BAEN Free Library at http://www.baen.com/library/. So far the following Misty titles are available through this service:
Fiddler Fair
The Lark and the Wren
Bedlam Boyz
Born to Run
Werehunter
Beyond World's End
The Shadow of the Lion
Publication News: Stoned Souls (with Josepha Sherman) has a release date of Jan. 1, 2005, but you can preorder your copy at http://www.dragonlordsnet.com/bkfanml.htm. A portion of all proceeds from orders placed through the Dragonlords' Bookstore goes to support Queen's Own. This is how we keep memberships free, so we really appreciate your support!
The Fairy Godmother will be released in paperback November 2004.
Expect the paperback of Exile's Valor in early October 2004. Also in early October the hardcover version of Phoenix and Ashes will hit the bookstore shelves.
The paperback edition of The Outstretched Shadow (Book 1 of the Obsidian Trilogy) will make its appearance in August 2004. Also in August, look for The Wizard of Karres, with Eric Flint and David Freer.
Chapter News: The Western Canadian Chapter of QO, the Mountain Shadow Collegium, and their zine Northwest Passages are back, once again under the leadership of Herald Darvith (aka Jennefer Rogers). Keep watch at http://www.dragonlordsnet.com/qochap.htm and in the next newsletter for details about how to join. Fanzine info will be posted at http://www.dragonlordsnet.com/qofanfic.htm as soon as we receive it.
Stephanie Harris is looking for a co-President to help run Southern Arrows. The chapter is also looking for members. Contact Stephanie at sblackwell@knology.net for more details.
Editors and Chapter Presidents: Please check your information at http://www.dragonlordsnet.com/qochap.htm and in the QO newsletter to make sure that it's up-to-date and accurate. If you have any changes, please send them to Danya at Legend@malcor.com.
We have a special treat this time: a review of No Pain, No Gain from Adept Starfeather K'Valdemar. Enjoy!
Have a great summer!
Zhai'helleva,
Herald-Mage Adept Danya Winterborn and Healer Adept Moonstar

Did you say Chicks?!
Edited by Esther Friesner
Baen Books
Copyright 1998
309 pgs
ISBN# 0-671-87867-0
Price US $5.99

Reviewed by Adept Starfeather K'Valdemar
If you're looking for light summer reading you can't go wrong with the second installment in the "Chicks in Chainmail" series edited by Esther Friesner. Capitalizing on the success of the first book, this second book picks up with the original's premise: to debunk the myth of the "warrior woman" as a pretty maid in a hot outfit who still needs a hero to rescue her.
The anthology begins with the aptly titled No Pain, No Gain by Elizabeth Moon. Ms. Moon tells the tale of noble women who want to look beautiful without doing any work. If those claims were made today, it'd be called an infomercial, but in this tale, it's magic. So, shepherdess' with the legs of a goddess wake up with flabby thighs, and exotic dancers with the stomach of a swimsuit model wake up looking like well, most of us. With the aid of the Lady's Aid & Armor Society all body parts are returned to their original owners, much to the chagrin of the noblewomen who had enjoyed their loan.
And thus, the stage is set for a rollicking good time. Tales from the Slushpile tells an interesting story of what really does happen at science fiction conventions, and That Old Fire takes a touching look at motherhood. Each story provides a different story, yet still stays true to the theme. Each one shares two things, women warriors and humor. A book for every fan of fantasy. Enjoy!
Ren Faires:
Here are the Faires we know about for August. Faires are indexed alphabetically by state. Have any information about any other Renaissance Faires in your area? Send it to us at Legend@malcor.com.
California
BIG BEAR CITY RENAISSANCE FAIRE: THE ENCHANTED SHIRE. Website: http://www.bigbearinfo.com. Site Address: 1351 Midway Blvd Big Bear City, California, 92314. Dates: 8/7/04 - 8/8/04.
HEART OF THE FOREST RENAISSANCE FAIRE. E-mail: info@themeevents.com. Website: http://www.forestfaire.com. Address: 861 Sweetser Ave., Novato, CA, 94945. Site Address: Stafford Lake Park, 3549 Novato Blvd., Novato, CA. Dates: 7/17/04 - 8/15/04. Open/Close: 10:00 AM - 6:00 PM.
ITALIAN RENAISSANCE FAIRE. Site Address: Italian Society Picnic GroundsSutter Creek, California, 95662. Dates: 7/31/04 - 8/01/04.
LONG BEACH RENAISSANCE ARTS FESTIVAL. Site Address: Long Beach, California. Dates: 8/23/04 - 8/24/04.
PITTSBURG SCOTTISH RENAISSANCE FESTIVAL. Site Address: Buchanan Park Buchanan & Harbor St.Pittsburg, California, 94553. Dates: 8/7/04 - 8/8/04.
Colorado
Colorado Renaissance Faire. E-mail: info@coloradorenaissance.com. Website: http://www.coloradorenaissance.com. Address: Jim Paradise, 409 S. Wilcox, Ste F, Castle Rock, CO 80104. Site Address: Park Rd., Larkspur, CO. Dates: 6/12/04 – 8/1/04. Open/Close: 10 AM – 6:30 PM.
Michigan
SILVER LEAF RENAISSANCE FAIRE. Site Address: Between Comstock and Galesburg, Michigan. Dates: 7/10/04 - 8/1/04.
Pennsylvania
GREATER PITTSBURGH RENAISSANCE FESTIVAL. Site Address: 112 Renaissance Lane West Newton, Pennsylvania, 15089. Dates: 8/21/04 - 9/26/04.
Virginia
STONE TOWER GLENN RENAISSANCE FAIRE. E-mail: celticwarrior24485@yahoo.com. Website: http://www.stonetowerglenn.org. Address: Chris Pugh, 1044 Deerfield Valley Rd, West Augusta VA, 24485. Site Address: Natural Chimney's Regional Park, Mount Solon, VA. Dates: 6/19/04 – 6/20/04, 8/20/04 – 8/21/04. Open/Close: 10 AM - 6 PM.
Washington
WASHINGTON RENAISSANCE FANTASY FAIRE. Site Address: Minter Creek Ranch 10215 State Road 302 NW Gig Harbor, Washington, 98329. Dates: 8/7/04 - 8/22/04.
Wisconsin
BRISTOL RENAISSANCE FAIRE. Site Address: Kenosha, Wisconsin. Dates: 7/10/04 - 9/6/04.
Canada
ONTARIO RENAISSANCE FESTIVAL. FAX: 905-878-6043. E-mail: orf@globalserve.net. Website: http://www.rennfest.com/orf/index.html. Address: P.O. Box 486, Milton, ON, L9T-4Z1. Site Address: 6252 8th Line, Hornby, ON, LOP 1EO. Dates: 7/31/04 - 9/06/04. Open/Close: 10:30 AM - 7:00 PM.
For additional Ren Faire information, visit the Renaissance Faire Homepage at http://www.renfaire.com and the Renaissance Magazine site at http://www.renaissancemagazine.com.
Conventions:
These are the upcoming cons we know about. Have any information about conventions in your area? Send it to us at Legend@malcor.com.
Arizona
HEXACON 14. Website: http://www.hexacon.org. E-mail: hex14@hexacon.org. Address: Tempe Mission Palms Hotel, 50 E. Third St., Tempe, AZ. Dates: 7/30/04 - 8/1/04.
Florida
VULKON ORLANDO HEROES AND WIZARDS. Website: http://www.vulkon.com/. E-mail: joemotes@aol.com. Address: Orlando Hilton North, Orlando, Florida. Dates: 8/21/04 - 8/23/04.
Idaho
FANDEMONIUM. Website: http://www.fandemonium.org/. E-mail: info@fandemonium.org. Address: Red Lion Downtowner (Hotel), Boise, Idaho. Dates: 8/13/04 - 8/15/04.
Indiana
GENCON INDY 2004. Website: http://www.gencon.com/. E-mail: pr@gencon.com. Address: Convention Center, Indianapolis, Indiana. Dates: 8/19/04 - 8/22/04.
Kentucky
CONGLOMERATION 2004. Website: http://www.conglomeration.org. E-mail: conglomeration@iglou.com. Address: Clarion Hotel and Conference Center (formerly Hurstborne), Louisville, Kentucky. Dates: 8/6/04 - 8/8/04.
Maryland
OTAKON. Website: http://www.otakon.com/. E-mail: info@otakon.com. Address: Baltimore Convention Center, Baltimore, Maryland. Dates: 7/30/04 - 8/1/04.
Missouri
CONTEMPLATION. Website: http://www.contemplation-inc.org/. E-mail: pita_njag@hotmail.com. Address: Best Western Columbia Inn, Columbia, Missouri. Dates: 8/27/04 - 8/29/04.
SHOWMECON 2004. Website: http://www.showmecon.com. E-mail: mstadter@sbcglobal.net. Address: St. Louis Airport Hilton, St. Louis, Missouri. Dates: 7/30/04 - 8/1/04.
Nevada
WRITERCON 2004. Website: http://www.the-sandlot.com/writercon/. E-mail: writercon@yahoo.com. Address: Imperial Palace Hotel, Las Vegas, Nevada. Dates: 7/30/04 - 8/1/04.
Ohio
VULKON CLEVELAND. Website: http://www.vulkon.com/. E-mail: joemotes@aol.com. Address: Holiday Inn Independence, Cleveland, Ohio. Dates: 8/13/04 - 8/15/04.
Texas
ARMADILLOCON 26. Website: http://www.fact.org/dillo/. E-mail: ArmadilloConTX@hotmail.com. Address: Hilton North, Austin, Texas. Dates: 8/13/04 - 8/15/04.
O-CHIBICON. Website: http://www.o-chibicon.com. E-mail: janetv@o-chibicon.com. Address: Hampton/Clarion Inn, Houston, Texas. Dates: 8/6/04 - 8/8/04.
Virginia
CAPITAL ASSOCIATES. Website: http://www.capicons.com. E-mail: comicshow@aol.com. Address: Tysons Westpark Hotel, McLean, Virginia. Dates: 8/8/04.
Washington
DRAGONFLIGHT 2004. Website: http://www.dragonflight.org. E-mail: president@dragonflight.org. Address: Seattle University, Seattle, Washington. Dates: 8/13/04 - 8/15/04.
Canada
CANADIAN NATIONAL COMIC BOOK/SCIENCE FICTION/ANIME EXPO. Website: http://www.canadiannationalexpo.com. E-mail: info@hobbystar.com. Address: Metro Toronto Convention Centre, Toronto, Ontario. Dates: 8/27/04 - 8/29/04.
COMIX AND STORIES. Website: http://users.uniserve.com/~lswong/Comicon.html. E-mail: lswong@uniserve.com. Address: Heritage Hall, Vancouver, British Columbia. Dates: 8/29/04.
GATHERING OF THE GARGOYLES. Website: http://gatheringofthegargoyles.com/. E-mail: jla@artchicks.org. Address: Delta Centre-Ville Hotel, Montreal, Quebec. Dates: 8/6/04 - 8/8/04.
Japan
HIROSHIMA 2004. Website: http://www.urban.ne.jp/home/hiroanim/. E-mail: hiroanim@urban.ne.jp. Address: Aster Plaza, Hiroshima, Japan. Dates: 8/19/04 - 8/23/04.
United Kingdom
DISCWORLD CONVENTION 2004. Website: http://www.dwcon.org/. E-mail: info@dwcon.org. Address: The Hanover International Hotel, Hinckley, Leicestershire, England. Dates: 8/20/04 - 8/23/04.
For additional Convention information, visit Convention Outpost by Jenga at http://www.geocities.com/jengacons/.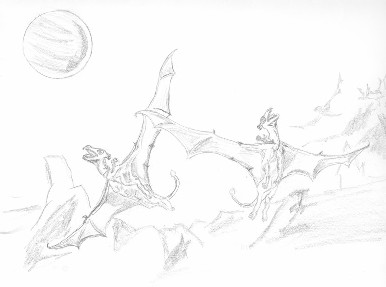 Member News:
For definitions of our fannish jargon, read the 12-page booklet "Pros & Cons: An Introduction to Fandom" written by Elizabeth Barrette. Send $1.00 and a $0.37 stamp (or $1.00 and 2 IRCs) to Queen's Own, P.O. Box 749, Laguna Beach, CA, 92652. Make checks payable to "Linda Malcor" in US funds only.
Local chapters:
Zines and Newsletters:

Other Fandoms:
Lois Bujold: Lois Bujold can be reached at lois@dendarii.com. "The Bujold Nexus" is at http://www.dendarii.com. You can receive information about their newsletter, the "Dendarii Dispatch" by contacting Lyn Belzer, Editor, 25-16 18th St., #2 Long Island City, NY 11102.


CrossGen Comics: Exciting New Fantasy Comic Books. Follow Prince Ethan's adventures the third Wednesday of each month as he gains the powerful sigil and accidentally puts his world on the brink of war. Meridian, on sale the fourth Wednesday of each month, is the fantastic saga of a teenage girl and her plight to save her floating island home. Go to http://www.crossgen.com, or call 1-888-COMICBOOK for details on a retail location near you.


Tanya Huff: Nine Above! is a list for fans of author Tanya Huff. This list provides announcements about Tanya's latest work, publication dates, and personal appearances. NA! also provides a forum for Tanya's fans to communicate with each other, and will have discussion as well as announcements. Lurking is fine, but participation is encouraged. When you join, we'd love for you to send a "hello" to the group at large, telling us who you are! To start sending messages to members of this group, simply send email to nineabove@egroups.com.


L.A. Malcor: Dragonlords of Dumnonia: L.A. Malcor, http://www.dragonlordsnet.com, Legend@malcor.com.


Adrian Paul of Highlander: Peace, APFC P.O. Box 4593, North Hollywood, CA 91617 or Peace, APFC P.O. Box 519, Broley, Kent, BR29WX, England.


Michael Praed: Michael Praed Network Newsletter, c/o Kate Raymond, P.O. Box 516, Midlotioan, IL 60445.


Melanie Rawn: Pandemonium - The official Melanie Rawn club invites you to join their ranks. SASE for more information: Irena Pereira, P.O. Box 18A146 , Los Angeles, CA 90018.


N3F is one of the oldest general interest SF/F clubs, started in 1941. Members meet by snail mail and E-mail to discuss SF, Fantasy, and Horror genres. (Some gather at cons, too.) We have plenty to offer the hungry SF/F/H fan! Members receive Tightbeam, the club's quarterly zine, and The National Fantasy Fan, our bi-monthly zine. For inquiries, please snail mail me at N3F Secretary, Dennis Davis, 25549 Byron Street, San Bernadino, CA, 92404-6403. Check out our website at http://www.simegen.com/fandom/n3f.


Star Trek: The USS Starfire is a writing group that writes original fiction set in the Star Trek universe. To find our more about our group, please visit our website at http://www.epix.net/~ckocher/starfire.html or e-mail us at trek01@epix.net.


Doctor Who and other Media: The Prydonians of Prynceton, P.O. Box 3194, Princeton, NJ 08543-3194.

Collegium News:
We have individual handouts for aspiring Heralds, Healers, Bards, Blues, Mercenaries, Tayledras, Shin'a'in, and White Winds Sorcerers/Sorceresses and instructions on how to work for Herald-Mage status if you are already a Herald or for a Kal'enedral if you are already a Shin'a'in. You can find these handouts online at http://www.dragonlordsnet.com/qohandouts.htm.
You need a release form (online at http://www.dragonlordsnet.com/qomlrel2.htm) if you write a story set in Misty's worlds or using any of her characters. You do not need a release for a character sketch, poem or filk. All Misty wants to do is protect her characters and her worlds. Send the release form (you do NOT need to include the story) to Misty c/o High Flight Arts and Letters, P.O. Box 2970, Claremore, OK 74017. Do NOT include the original of the release form with your persona material; send it to Misty. Send a copy to us.
All personae materials should be sent to the QO address or submitted by e-mail to Legend@malcor.com and healermoon@gmail.com.
Congratulations to Herald Lily who has earned the rank of Herald Riding Instructor! Lily Evans has won the following awards in competition: Safety Breaks Summer Horse Spectacular--1st Best Presented, W.A.A.H.A--1st Partbred Arab Gelding, 1st Classic Trot- gelding, Champion derivative Futurity Horse, 1st Ridden Stallion Arabian Derivative, 1st Classic Head- gelding, top 4 Junior Arabian Derivative Colt, Champion Anglo Colt/stallion, 2nd Arabian Derivative lightweight hack, 1st Arabian Derviative Quality Head, Champion Stock horse Mare, Res. Champion junior Novice rider, Open Elementary Dressage Exhibit, 3rd Arabian Derivative Classic Trot- stallion, 2nd Arabian derivative classic trot—colt, and Champion Anglo stallion!
If you were working on a persona who is no longer listed at http://www.dragonlordsnet.com/qochat.htm that means we have not heard from you in over a year. To revive your persona, simply message Danya at Legend@malcor.com and tell her that your persona is in "Deep Storage." She will pull it out for you and reactivate your submission.
If you are a returning member who has recently activated your membership in Queen's Own and we have forgotten to list you, message Danya at Legend@malcor.com, and she'll make sure you are greeted in the next newsletter.
Lost . . .
One of the challenges running an online club is that people don't always leave a forwarding address when they move . We are missing current e-mail addresses for the following members:
Bard Valiena (laughsong@aol.com)
Guardsman Faolan Ixran (Timmeu@scubadiving.com)
Healer Darnellon Gaither (mdprier@aol.com)
Healer Tamesin na Coille (brindle@bellsouth.net)
Herald Alia Melyngar (aliamelyngar@aol.com)
Herald Constantine Rief (maciain@pathway.net)
Herald Deborah (sjupiterdebi@home.com)
Herald Fiona L'Aren (divagypsy@yahoo.com)
Herald Ian Hawkwood (ianhawke1@aol.com)
Herald-Mage Apprentice Kadia Linder (Kadia@aol.com)
Herald Kendryl Shadowwolf (kscarpat@altavista.com)
Herald Keri Starfire/Mountainheart (WaltherM@imefdf.usmc.mil)
Herald Lisbeth Maye (wizardshome@hotmail.com)
Herald Liselle Aravon (rusalka@nac.net)
Herald Miracle Oceanfire (rhyme_reason@hotmail.com)
Herald Paf (jaro@attbi.com)
Herald Taras Taltos (billernoe@hotmail.com)
Tayledras Healer Adept Sierra k'Treva (katsanders@buffymail.com)
Tayledras Mage Autumnwynd k'Vaia (autumnwynd@aol.com)
Tayledras Blackwolf k'Vala (HRHIce@aol.com)
Tayledras Scout Skyfire k'Chona (liquid_twinkie@hotmail.com)
If you know any of these folks, please have them contact Danya at Legend@malcor.com with a current e-mail address.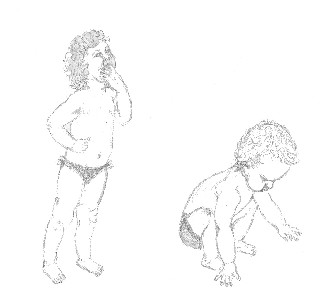 From Herald-Mage Adept Danya Winterborn:
Heyla, folks!

Well, I've had an exciting month. King Arthur opened on July 7th, and I've spent much of the month giving interviews and fielding questions about the movie. Herald Lily and a group of Misty fans went to see it in Australia. She writes that they loved the bit about the horses being reincarnated warriors; the detail reminded them of Companions.

I'm back to writing on my book about the Sword in the Stone as well as a popular book about the original L. Artorius Castus. The scholarly book will have to wait since too much new information is coming to light for me to get to press without the text being out of date. I also reread the first couple of chapters of a novel about Castus that I'd started a while back, and they were good enough to encourage me to start plugging away on that again. (Can you tell that I'm really enjoying my new office, which looks out on my backyard, so I can watch the kids play and still get some work done at the same time <G>?) I'm also working, once again, on the project to get some of the old newsletters coded and online. We will finish that some day, we promise <g>.

Work was finally completed on my fireplace mantel. Now I just have to find someone to do the stonework part of the surround . . . Eventually I will be able to curl up and read a good Misty book by the fire in my new library/living room <G>.

The yard is coming along nicely. We got rid of the last of the massive palms. If you've ever wondered what it looks like when a crane lifts 6,000 pounds of really big palms out of a very large hole, you can check it out here: http://www.malcor.com/ (Click on "Here" at the top of the screen, then select "Goodbye Palms."). We're going to fill in the hole, level off the yard, put in new sod, and plant a green Japanese maple. Eventually the place will start looking more like the California Tudor style we like . . .

I'm heading up to Lake Tahoe the second week of August, and I'll be in San Francisco on the 7th and 8th. Anyone in the area who would like to try to get together for a quick "Heyla!" and a cup of coffee, message me at Legend@malcor.com.

Zhai'helleva,

Danya

Personals:
From Ellen Million: Not only is Ellen Million Graphics still around (ten years last October!), but I now offer an array of gorgeous new work by new artists, on many new products (including t-shirts!) and a brand new character portrait service. Ordering is available on-line or by snail mail: http://www.ellenmilliongraphics.com. I'd also love to get back in touch with lost penpals! (Use the contact form on the website to avoid death-by-spam-filters!)

From Herald Valana Dorrandale/Rachel Valentine: Help!! College student drowning in mundane world! Do you like books (Terry Goodkind, Robert Jordan, Mickey Zucker Reichert, C.S. Friedman, Tanya Huff, Lynn Flewelling, Anne Rice, etc.), Star Trek, Star Wars, Babylon 5, movies, cats, dogs, fish, horses, mountains, music, play an instrument? Then what are you waiting for; write to me! Snail mail: Rachel Valentine, 10412 Sagebrush Way, Knoxville, TN, 37932 or e-mail raeval23@yahoo.com.


From Jennifer M. Mackay/Herald Mallea D'Lar. My interests are wide and long, so write me to find out more! Currently, I enjoy reading mostly Fantasy and SF. Some of my favorite authors are: Misty, JRR Tolkien, C.S. Lewis, Kate Elliott, Patricia Kenneally-Morrison, Morgan Llewellyn, and many more! I am an unpublished author working on an SF novel and a fantasy novel, plus various short stories. I enjoy watching movies, going to the beach, the mountains, and the bookstore! I also love listening to music (My tastes vary.). If you write or e-mail, I'm sure we can find something in common! Letters via Post Awful: Jennifer M. Mackay, P.O. Box 66408, Portland, OR 97290-6408. E-mail: mackayjennifer@netscape.net, mackayjenn@hotmail.com.


From White Winds Sorceress Cime Shadow Weaver. To All. Shadows of Goddess is now an online store. I offer 10 % discount to Queen's Own members. Be sure to tell me you are though. (:) I offer new items weekly. http://www.ebaystores.com/shadowsofthegoddess. My e-mail address is cimeshadow@aol.com.


From: Healer Adept Moonstar. To: All. Re: Release Forms for Personas. I still need release forms from many of you for your personas. I received most of the releases for Issue 1, and only one release for each of Issue 2 and Issue 3. Please send copies of your release forms to: Queen's Own, P.O. Box 749, Laguna Beach, CA 92652.



From Herald-Mage Danya. To: All. Re: Cookbook. If you've read my persona submission in CoV, you know that I like making up medieval-style recipes. I'm thinking about compiling a cookbook based on meals that Misty describes in the Velgarth series. If anyone is currently reading the books, could you note the book and page any food items are mentioned on and send them to me at Legend@malcor.com? Thanks!

Queen's Own is the official Mercedes Lackey Appreciation Society. Our purpose is to share our enjoyment of Misty's worlds. We are a fan-run not-for-profit organization, not a business. Our address of publication: P.O. Box 749, Laguna Beach, CA 92652 USA. This newsletter is published solely to inform and entertain the club's membership; no infringement of anyone's copyrights is intended.

Newsletters are published on (or near) the first of each month.

Co-Editor/Co-President Herald-Mage Master Danya Winterborn (L.A. Malcor; AOL-IM SN Shashtah; Legend@malcor.com)

Co-Editor/Co-President Healer Adept Moonstar (Kendra Renaud; AOL-IM SN healermoon; healermoon@gmail.com)

The featured artist for this newsletter is Jan Tallevast All drawings in this newsletter are © to the credited artist. All rights reserved. If you would like your art to be featured in the online version of the QO newsletter, send .gifs or .jpgs to Legend@malcor.com or hardcopy to Queen's Own, P.O. Box 749, Laguna Beach, CA 92652.

Mercedes Lackey does not receive mail at the Queen's Own address. Fanmail to Mercedes Lackey and releases for fan fiction should be sent to:

Mercedes Lackey
c/o High Flight Arts and Letters
P.O. Box 2970
Claremore, OK 74017

Zhai'helleva,

Herald-Mage Master Danya Winterborn and

Healer Adept Moonstar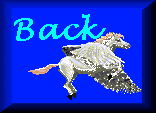 Return to the Queen's Own Newsletter Page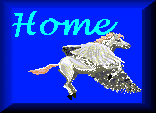 Return to the Queen's Own Home Page