More Light Presbyterians
Los Ranchos Chapter
(Revised 1/8/05)
"We limit not the truth of God
To our poor reach of mind,
By notions of our day and sect,
Crude, partial and confined.
No, let a new and better hope
Within our hearts be stirred:
For God hath yet more light and truth
To break forth from the Word."
Pastor John Robinson, sending the Pilgrims to the New World, 1620 C.E.;
paraphrased by the hymnwriter George Rawson, 1807--1889 C.E.

More Light Presbyterians
More Light Presbyterians is an organization within the Presbyterian Church, USA, that seeks "the full participation of gay, lesbian, bisexual, transgender people of faith in the life, ministry, and witness of the Presbyterian Church (USA)."

Congregations in the Los Ranchos Presbytery
There are currently no More Light Congregations in the Los Ranchos Presbytery, though some congregations do have members who have joined MLP on an individual basis. For information about joining MLP as an individual, visit the Individual Membership page or message me at Legend@malcor.com.

Chapters in the Los Ranchos Presbytery
The Los Ranchos Chapter of More Light Presbyterians held its first meeting Saturday, November 13, 1999 in the Social Hall at St. Mark Presbyterian Church. This chapter covers the same geographic region as the Los Ranchos Presbytery but it is a regional rather than a Presbytery chapter.

Getting in Touch
For more information, contact the Los Ranchos Presbytery liaison for More Light Presbyterians, Linda Malcor, by e-mail at Legend@malcor.com or send snail mail to:
More Light Presbyterians
P.O. Box 749
Laguna Beach, CA 92652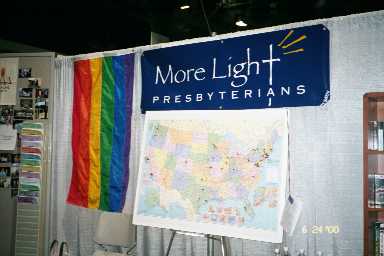 Upcoming Events
If you have information you think should be included on this page, message me at Legend@malcor.com.

Discussions

E-mail Discussion Lists

Links of Interest

The Action of the General Assembly (1978)
(Excerpt)
Presbyterians are called "to repent in their own lives, and challenge in others, the sin of homophobia, which drives homosexual persons away from Christ and his church." (Minutes of the 190th General Assembly, United Presbyterian Church in the United States of America [1978], p. 266, Policy Statement "The Church and Homosexuality," recommendation 8.)

Devotional Thought:
Matthew 7:15-20 (RSV): "Beware of false prophets, who come to you in sheep's clothing but inwardly are ravenous wolves. You will know them by their fruits. Are grapes gathered from thorns, or figs from thistles? So, every sound tree bears good fruit, but the bad tree bears evil fruit. A sound tree cannot bear evil fruit, nor can a bad tree bear good fruit. Every tree that does not bear good fruit is cut down and thrown into the fire. Thus you will know them by their fruits."
Consider this:
Suicide is the 3rd leading killer of young people between the ages of 15 to 24 years of age. (U.S. Bureau of Census and Statistics, 1997).
Gay and Lesbian teens were 3 times more at risk for suicide attempts than heterosexual students (Rotheram-Borus et al. 1994; Note: The Seattle Times claimed this statistic is an error, but the article does not give any reason for deciding that the statistic is an error, and evidence presented by Rotheram-Borus et al. seems to be at odds with the opinion expressed in Seattle Times. But if even one suicide is related to the negative messages gay teens are given about sexual orientation, something that is part of who they are and that they cannot change, isn't that one suicide too many?).
Further Reading: Pierre J. Tremblay, The Gay, Lesbian and Bisexual Factor In The Youth Suicide Problem. Submitted to the Honourable Halvar Jonson, Minister of Education, Province of Alberta. Second Edition. 1994.
What fruits have your words and actions yielded today?
Prayer: God of Love, help us to be patient and kind. Give us the strength to be neither irritable nor resentful and the wisdom not to insist on our own way. Fill us with the love that enables us to bear all things, believe all things, hope all things, and endure all things. Give us the power to show Your love to all people that they might trust in You. These things we pray in Jesus's name, Amen.



Return to the Dragonlords of Dumnonia Home Page